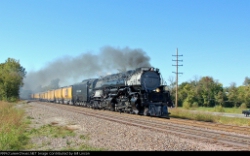 Welcome to the RRPictureArchives.NET contributor site of Bill Linson.



I have been photographing trains for 23 years, but only the last fifteen seriously. A great many of my photos were taken in the Allegheny Mountains of western Pennsylvania (Horseshoe Curve area), and northeastern Ohio (Ashland), but with a move in early 2008 to St. Louis, we see an influx of Missouri action.

Photographers I particularly enjoy are Dave Abeles and Mark Hardin (both represented at this website), and Ken Heyl, Wes Shankland, Dick Perry, and Alex Lang.

Expect to see additions to this site on a regular basis. I shot with a Nikon D50; with 18mm-55mm, and 70mm-300mm zoom lenses, and more recently an 18mm-250mm zoom lens, until January 2015. I now use a Canon 6D with a 24-70mm lens.



You may browse my collection of pictures via the menu located on the left hand side of the page. I hope you enjoy the collection and thanks for stopping by!